Walkways that go above and beyond
Kee Walk® provides a safe, anti-slip, level walkway for workers who need to access a roof in the course of their work. Its intelligent design protects the roof surface from unnecessary damage and integrates easily with either guardrails or lifeline systems.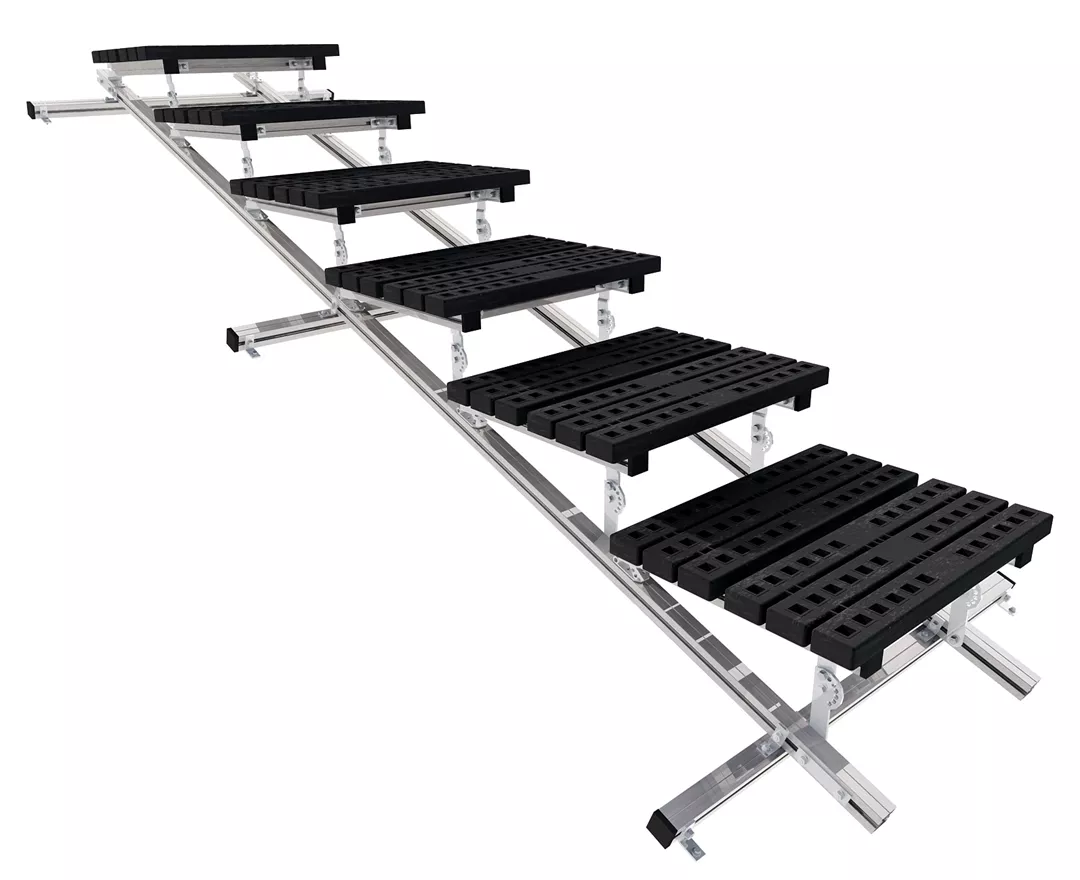 Why do you need Kee Walk Rooftop Walkways?
Kee Walk® is designed for modern roof types including trapezoidal profile composite or built up and standing seam metal roofs. It can be used on flat, barrel, or sloping roofs, with steps and a traverse option so you can create access to virtually any roof configuration from 0 to 35 degrees.
Protects You and the Roof
Kee Walk® has been specially developed to give you total flexibility in creating safe access to all areas of a roof. Not only does it protect those accessing the roof, but it also protects the roof sheet itself. It does this thanks to its clearly defined access path eliminating foot traffic on the roof sheet.
Modules are supplied as 1.5m and 3m pre-assembled sections to suit the needs of different roofs. The glass-reinforced nylon or aluminum treads are attached to aluminum support beams that are fixed to the roof surface. There are no unique parts needed.
Key features of Kee Walk Rooftop Walkway
Clear Walkways
Thanks to clear on-roof demarcation, it helps to prevent the roof's surface being damaged.
All Types of Roofs
Designed for modern roof types including trapezoidal, profile, composite or built up and standing seam metal roofs.
Roof Angles up to 35 degrees
This flexible walkway system can be adapted for roof angles from 0 to 35 degrees and can be adjusted on site.
Standard Kit Formats
Comes in a kit form in standard sizes and can be quickly installed to create a safe working area.
Non-slip Treads
The walkway is made from nylon or aluminium treads with enhanced slip resistance.
High Fire Rating
The nylon treads are fire rated to Class HB of UL94 and will not present a fire risk.
No Welding Needed
Made from tubular fittings and standard modules so it can be installed on-site without any welding.
Long Lasting
Available in aluminium or galvanized steel for long-lasting protection, corrosion resistance and strength.
Add Guardrail or Lifeline Systems
Create a complete fall protection system with our full range of safety products.
Kee Walk with Guardrail System
The guardrail protection eliminates the fall hazard present when workers are exposed to an unprotected edge while accessing or coming off a roof top.
Kee Walk Guarded Walkway
Kee Walk with KeeGuard
The Kee Walk with KeeGuard is a fall protection solution consisting of walkway and KeeGuard which can be installed quickly and easily on a wide variety of roofs.
Kee Walk w Guardrail
Kee Walk® was an ideal modular system with no custom made parts. Each section was delivered to the site fully assembled to provide a level, anti-slip walking surface.
Jeff Rowley, Product Manager, Kee Safety
Highest standards for rooftop safety
Kee Walk exceeds all OSHA compliance standards together with EN516:2006, the European standard for the test requirements of roof access walkways. This includes measuring the deflection and residual deformation under specified loads. Kee Walk Rooftop Walkways have surpassed all testing allowing the system to be CE marked under the European Construction Products Regulation No. 305/2011.
Certified at our advanced testing facility
Kee Safety runs one of the world's leading test and training centers at its UK Head Office. Run by a team of industry experts, this state-of-the-art facility ensures Kee Safety meets the needs of its customers, provides them with fully compliant products, and drives new innovation with the purpose of separating people from hazards.
Frequently Asked Questions
Trusted Fall Protection for Recognized Brands
Kee Walk Downloads
| Document | Format |
| --- | --- |
| Kee Walk Brochure | |
| Kee Walk Instructions For Use Manual | |
| Kee Walk Operations and Maintenance | |
| Kee Walk Data Sheet | |

| Document | Format |
| --- | --- |
| Kee Walk Brochure | |

| Document | Format |
| --- | --- |
| Kee Walk Instructions For Use Manual | |

| Document | Format |
| --- | --- |
| Kee Walk Operations and Maintenance | |
| Kee Walk Data Sheet | |
`
Services
Design and Installation
We offer full design and installation services that include a complete on-site survey. Also, we can produce comprehensive shop drawings to help you visualize the end result. With our detailed project outline, you can be confident that your project is professionally specified, and that all safety concerns and standards are addressed to your satisfaction.
Alternatively, you can specify and install KeeGuard yourself with our easy-to-follow instructions – it all starts with a call to our knowledgeable staff!
Get in touch
Kee Walk® Rooftop Walkway Applications
Safety is Kee, let us help protect your team
Please fill in your details below and we'll be in touch shortly.